To separate fact and imagination, event and feeling, protagonist and narrator, is to stay on dry land and never put to sea.
– John Berger
Leaving is easy. You open your door, you step over the threshold, and you close the door behind you. The moment before leaving is a different story though – days, weeks in which I tried to push away a small voice in my head saying: you have to walk from Spain to Paris. I tried to silence it, but it was hard. I told myself I walked so much in the last years already. My back was in a bad shape. Winter was approaching. I wanted to stay home. But the voice only got louder. In the beginning of October 2015, two months before the start of the big Climate Conference, the COP21, it was still there, and so I left. To meet people on the road, to listen to them, to talk with them. About ecology, simple and slow ways of being, consumerism, history, humanism. Love and life and death, in small and big ways. I collected and left traces. I walked and folded paper ships, like children do, using the discarded materials of our culture, breathing life back into what has been left behind, slowly building a big fleet to bring me to Paris, vessels to help me reach my destination. Every one of them dedicated to somebody who helped me on my journey in some way.
Day 4. The sea
One Sunday in August, more than a month before I even started thinking about walking to the Climate Conference in Paris, I was having lunch with two friends. Afterwards we drank some coffee, Turkish coffee from beautiful small cups. We turned the cups upside down after we drank the coffee, in order to read our fortune, our future, from the coffee remains. My cup clearly showed a long sea journey, but I couldn't imagine my future would see me travelling the ocean.
I don't know if you can really read your future from a coffee cup or from the stars or the lines in your hand, but I do believe that everything is present in the present, both the past and the future, and there must be traces of it you can feel, maybe see, sense in different ways than we sense warm or cold, pain or pleasure.
I had already forgotten all about the reading until the morning I wake up on a hilltop next to a strawberry tree, three days after I left Barcelona, and see the waves in the far distance. It strikes me that maybe this journey is the sea journey I had seen in my coffee cup. A journey where I leave from the sea and where it accompanies me while keeping my feet on the earth. Where it stays in sight for a while and then recedes into my mind, stays in my memory when its vision is being replaced by woods and mountains and cities.
I eat berries and drink the water I collected yesterday. I put on my suit, the three piece business suit I am wearing every day, I roll up my sleeping bag and walk on. Direction north. There is no planned route. 
Day 21. Losing and gaining
I gambled and I lost. The locals told me it was a bad idea to try to cross the mountains today, but I had already stayed at sea level for two days. Two beautiful sunny days in which the sea got louder and louder. It was a sign of the storm coming in, they told me, and I believed them, I could hear it in the waves myself.
I am somewhere in-between two border villages, Portbou-Banyuls, in that hyphen, on either side of the French-Spanish border but without being 100% sure if I already crossed over to the French side.
This morning the sun didn't come out and I watched the dark sky hanging over the mountains in the direction I was supposed to go, and for a while I waited to see if anything would change. But nothing changed so I left, my house back on my shoulders, stocked up with food and water.
I am not sure at first if it is rain falling down or if I am moving through a cloud. The trail is so narrow and the bushes so prickly that wearing a rain poncho would only get me stuck. I know there won't be any places to find proper shelter here; there hardly ever are higher up in the mountains where the trees are small and the land is rocky and never flat.
I gambled and I lost. But still I am lucky.
I somehow manage to put up my tent. I crawl inside, exhausted, get rid of my soaked clothes, slip into my warm sleeping bag and fall asleep. When I wake up I am not sure if my eyes are open or closed. There is only black.
The storm is full-on, rain pouring down, the wind pulling on my tent. It is a strange sensation to be all alone close to a mountain top in complete darkness. To be shaken by the elements but feeling completely safe. There isn't a single human being within kilometres. There is nothing I can do but wait for the night to pass, for the storm to lie down, for the world to return. I feel happy.
While walking up the mountain under that black sky, with every step I wondered if I should stop or continue, I worried if I would reach the other side before nightfall. But once I was inside my tent, safe in the belly of a violent world, the others came back. Not just the people I had seen on television the day before, people on the road and in small boats crossing seas in this moment in far more difficult situations than I was in, but also the people from the past. This isn't just any trail, it is the trail people have used to escape the violence of war: people crossing the border to reach France during the Spanish Civil War, and later on crossing in the other direction to reach Spain to escape the Nazi regime. It is the trail Walter Benjamin walked, into what was supposed to be his freedom but instead turned into his death. I am lying awake in their memory, in the echo of their steps.
I write and then fold paper boats. Thin shiny silver foil from cigarette packages, receipts from clothes stores, pages from an old newspaper, food wrappers.
When I wake up the next morning I am surrounded by muddy items and small ships. The sun is there again. I spread my wet things out in the trees and wait. When everything is dry I take my fleet and walk up. The mountain top isn't far.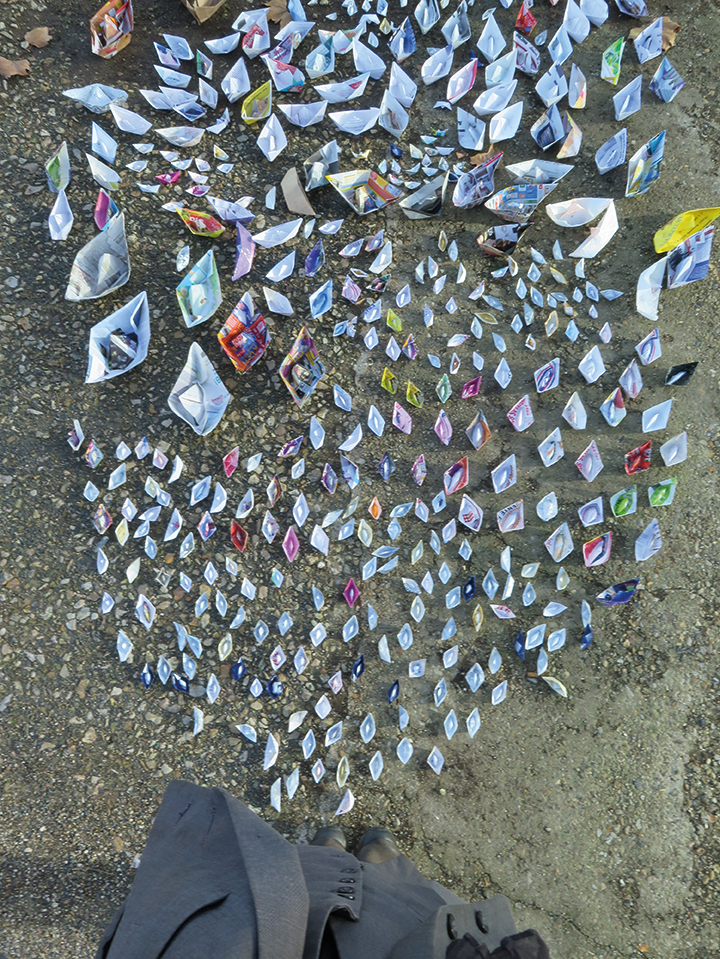 Day 25/26. This is what the world is like
The road was beautiful all the way up to here, charming Spanish villages, the historical city of Girona, mountain walks and small lagoons, the intriguing history of the border area, Nobel's experimental site in France, lush nature and kind people. Yesterday it started to change. Big deserted roads, ugly buildings. Huge mobile homes the size of a small house passing me, carrying names like Explorer and Challenger.
I see a man next to the road, his bike upside down. I ask if I can help him. He is from this area, he is proud of it, he says, 'C'est joli ici, n'est-ce pas?' (It is beautiful here, isn't it?). I say yes, but I realise I only say yes to please him, and then I say: 'No, not really. Before it was, but here it is so touristy.' In the far distance we can see the remains of a swimming paradise, a huge structure with long slides. Colourful signs saying, 'Entertainment Area', 'Kentucky Ranch', 'Aqua World'.
Why build an aqua world when the sea is in walking distance? Even the signs from the local farmers, promoting homemade wine and organically grown vegetables, are big and shiny to compete with the new attractions. The man thinks for a few seconds. 'Actually you are right. But it used to be different. People are poor here, they are trying everything to make a living.' We talk until his wife arrives to pick him up. I wave them off. It is ugly the rest of the day until I reach a big lake. I fall asleep in a rustic fisherman's cabin, not knowing when I wake up that the road ahead is even uglier. But I don't mind, I don't walk for pleasure. I walk to see what the world is like. This is what the world is like.
I don't walk for pleasure. I walk to see what the world is like. This is what the world is like.
It is still early when I arrive in the city I had seen like a fata morgana rising up in this flat land in the distance yesterday. Canet-en-Roussillon.
I sit on a bench looking at a woman in pink clothes and purple make-up doing her exercises, somebody trying to find treasures under the sand with a metal detector, a grumpy man walking his sleepy dog. More mobile homes. Big parking lots. A man is removing all the trash from the street with a machine almost his height that works like a vacuum cleaner. I imagine how many people have jobs to make it possible for street cleaners to use machines like these for a task that is so simple. The designers, the builders, the sellers, the repairmen. All these useless things we seem to need, all these useless jobs, all this money going around in circles bringing us nowhere. (Needless to say that we wouldn't even need a small army of street cleaners if we would deal with our trash in a different way.)
The cleaner works efficiently and is ahead of me. There is nothing left on the street to fold into a boat.
Day 28. I am only here today
The walking teaches me that you should never count on anything. Be prepared to be either hungry or carry food with you all day because you never know if the villages you will be walking through have a food store or if there will be fruit trees on your path. Sleep with your clothes on because even though the old shed looks deserted the owner might still wake you up in the early hours of the morning, checking on his property. Make sure you have a backup plan when you sleep under the clear starry sky in case the clouds come in. Be prepared to deal with people who treat you rudely, who think you are a fool, who don't have a clue why somebody would want to do what I am now doing, even when you believe that human beings are capable of thinking differently than history tells us.
Never count on anything but always trust that somehow it will work out. Don't lose your patience though. Patience is the key to it all. Be slow. Do things when the time is right. When you don't know what your next steps should be or in what direction they should go, just wait. Wait, and something will happen.
Walking makes time disappear. There isn't really a beginning or a
middle or an ending. There is only now, this day, this moment, and the beginning is in it just as much as the ending is. It doesn't matter where I go because I am not going anywhere. I stay in the moment again and again.
Today I am not walking. I sit still. I watch the fog rise. I sit in the morning sun, the midday sun and the late afternoon sun. I listen to the dog snoring. I look at the cats moving from sunny spot to sunny spot, from window sill to woodpile to the dusty path and back again. I watch the curious chicken enter the kitchen, the wasps building their nest next to the door, the dragonfly moving through the air from room to room to find a way out. I see the farmer with the silent eyes carry wood in his wheelbarrow. I hear the volunteers opening the gate to the vegetable garden. Now and then I think about the past days and the days to come but not too much. They will come anyway. I am only here today.
Day 48. Dirty suits
I watch them in their expensive suits. Lining up. Smiling. Filling the full width of the flat screen in my room. All of them arrived in expensive cars, flew in by plane, stay in hotels and eat expensive dinners. They talk and talk. A lot of words.
I am too tired to take off my muddy suit, I am too keen on seeing what is happening in Paris. I hadn't planned to be inside tonight, I had even been so out of time that I hadn't been aware of the opening of the Climate Conference today. But it started to rain and it was already getting dark and suddenly a hotel popped up. I hardly ever ask for anything – only when I know that it won't be used anyway – and the manager called the owner and gave me a generous discount. It was still much more than what I have available for one day but yesterday was a moneyless day: I slept for free in a concrete cave where I could barely lift my head under a power plant in the middle of open fields and I ate what the kind baker had given me in Sens.
And this morning the locals paid for my coffee and the lady running the cafe gave me food for the road. I didn't ask, I just answered their questions about what I was doing and how I was doing it.
It is amazing how helpful people are. I could do this walk completely on my own but there would be no meaning in it. Every day I'm walking with the people who help me in any way. The people who give me food or shelter, send me money, inspiring texts and music, encouraging words, silent thoughts. The people who give me the opportunity to get stuck on a mountain top so I can find a new story to tell to the next person on the road who is hosting me and who gives me another story I can return to somebody back home. Or to the people following my footsteps in the other world, the virtual one I always move through while putting my feet on solid soil. As always I carry my small iPad and a solar panel with me, and the QR codes that are embroidered on my walking suit link to my blog. You can scan my outside and read what is inside. With a device or with your eyes, if you want a different story.
I turn off the television. I fold a boat for Marc, the hotel manager. I fold one for Michel, the villager who paid for my coffee earlier that morning and one for the cafe owner who asked me so many questions and gave me food for the road. I fold one for Bruno, the baker in Sens who gave me bags with delicious things he would otherwise have thrown out after closing time, who told me how much he loved baking bread but how hard it was to do all the work on his own and how he was dreaming about going somewhere else. I fold them with care and I add them to the others.
Day 55. The walk is never over
It is five o'clock, I open my window to get some fresh air. I would have preferred to sleep outside but so close to Paris it is too dangerous. The parking lot is dark, the lights of the playing hall have gone. Clouds, but some stars are visible. Orion, the Great Hunter is out of sight.
I laugh out loud. Not so loud the sound will reach the stars but loud enough for the first birds to hear. I remember sleeping under a full moon one night in my second week staring at Orion when, one after the other, five wild boar came by because I had put my sleeping bag right where their favourite hangout was. Animals never scare me on the road, not in Europe. They want no harm. And anyway, the less afraid you are, the safer you are.
It is the question most asked on the road: 'Aren't you afraid?' I always answer 'No. Not when I am walking, not when the world is carrying me.'
You have to be careful though. When I walked here yesterday, I carried my most valuable things tucked away in the long winter stockings I was wearing. Several people on the road had told me that the forest was a dangerous area, drug addicts and criminals wandering around its edges, prostitutes taking their clients out there. It was one of the rare occasions I felt unsafe while walking. Where the trees couldn't give me shelter during the night. 
There is nobody out there, only the giant woman on the billboard in her black and white summer dress, advocating 'Unexpected Shopping' – whatever that is. I close my window and fall asleep in my suit on top of the covers.
The suit – I call it my Soft Armour – has kept me safe all the way and it will keep me safe during the fight in Paris. A peaceful fight for a cleaner world with more attention for people, nature. A world where we take more time for things.
I don't think we will win in the long run but it doesn't matter. As long as we can, we have to fight. Fight and dream.
Paris 
A different world. I enter the city in my suit, wearing a hat, carrying a big backpack. I sit on some stairs, people take photos of me. I have become so used to my second skin that I sometimes forget how odd my suit looks to strangers. Somebody calls me a cowboy nomad. But they don't know that I am also a secret sailor.
The atmosphere is intense. I sleep in the activist camp together with 150 other people. I am out on the streets protesting. I talk with people about environmental change and I am delighted by the energy people put into their fight but also worried about a specific focus that doesn't always address the problems that are at the basis of it. How we forget to take care of each other, how fear is ruling the lives of many. I am impressed by how well everything is organised, how thousands of people are trained to deal with extreme situations in case of a clash with the police during the protests. I love the mobile kitchens, street cooks making sure nobody in this fight has to be hungry.
There is no time for my ships, they are locked away in a closet, waiting for something to happen. After the final demonstration I move out of the camp and sleep in a stranger's bed. I wander around Paris with my boats. On the last day I sit on a bench at the Place de la Nation, famous for having the most active guillotines during the French Revolution. The bronze female figure in the middle of it, the Triomphe de la République, was once surrounded by a large pond. Behind it, in the distance, there is a big building with a mural on its top floor. It has a big eye and in huge red numbers '1984'. George Orwell was here. I smile.
I put out my ships. I wonder if they soak up the energy of the location, my energy. All the police around make me nervous even though I am doing something innocent. I work fast, I take quick photos, I go back home and without thinking I put the boats out on the bed. Suddenly the fleet seems to make more sense than before, sailing on that sea of forgotten dreams.
(The journey to Paris took 55 days. More here: asoftarmour6.blogspot.com)
Our walking series continues next week with a piece by artist Freya Gabie.