The Baldwin is located in South East London and it had taken me just over an hour of rain-soaked traffic laden cycling to get there from Paddington station. I was saturated with the British urban reality, but when I stood in front of two paintings from the current exhibition and heard about the stories behind them, it was if two portals had been cut into the air that led to a truly wild place.
I first visited the Baldwin Gallery last November when Dark Mountain was invited to hold the second of two book launches there for Issue 14: TERRA. It was a wonderful evening of readings and conversation but my strongest memories were of the artwork hanging on the walls. So I was delighted to return to see 'Substrata' the latest curated exhibition in the gallery and to speak with Dennison Smith, the owner and creative director.
The Baldwin specialises in showcasing contemporary art primarily made by Canadian First Nations and Native American artists. The artwork shown there is a striking combination of grounded, place-based subjects and contemporary styles. I talk with Dennison about the heartbreak within the disappearance of native cultures, traditions, language and land. The North American and Canadian artists exhibiting at the Baldwin are all connected by this thread, and yet their work speaks to all people who share a brutal and damaging history and resulting loss of belonging and connection with nature. Shown in a gallery that is a home as much as it is an exhibition space, emphasises that art made within these traditions is for living with, rather than possessed as a commodity.
The paintings that had struck me were by Patrick Dean Hubbell, two earth-toned, minimal pieces that hung either side of a large window. Dennison explained that they were produced using pigments from the land on the Navajo reservation, where the artist is from. The background is filled with frenetic layers of textures in several different tones of brown and black and layered by precise, almost digitally accurate, painted symbols. The precision of the paint over the rough wild back drop is a beautiful demonstration of the kind of work that the Baldwin chooses to showcase – art that is from a place with a sense of deep time, and yet integrated into the modern world.
'Substrata' contains work whose styles and mediums vary hugely. Sarah Sense's work is textured with photographs and handmade paper. Woven pieces using traditional Choctaw and Chitimacha techniques offer a 'craft' aspect to the exhibition and speak of keeping alive traditional art forms in modern times and with modern approaches.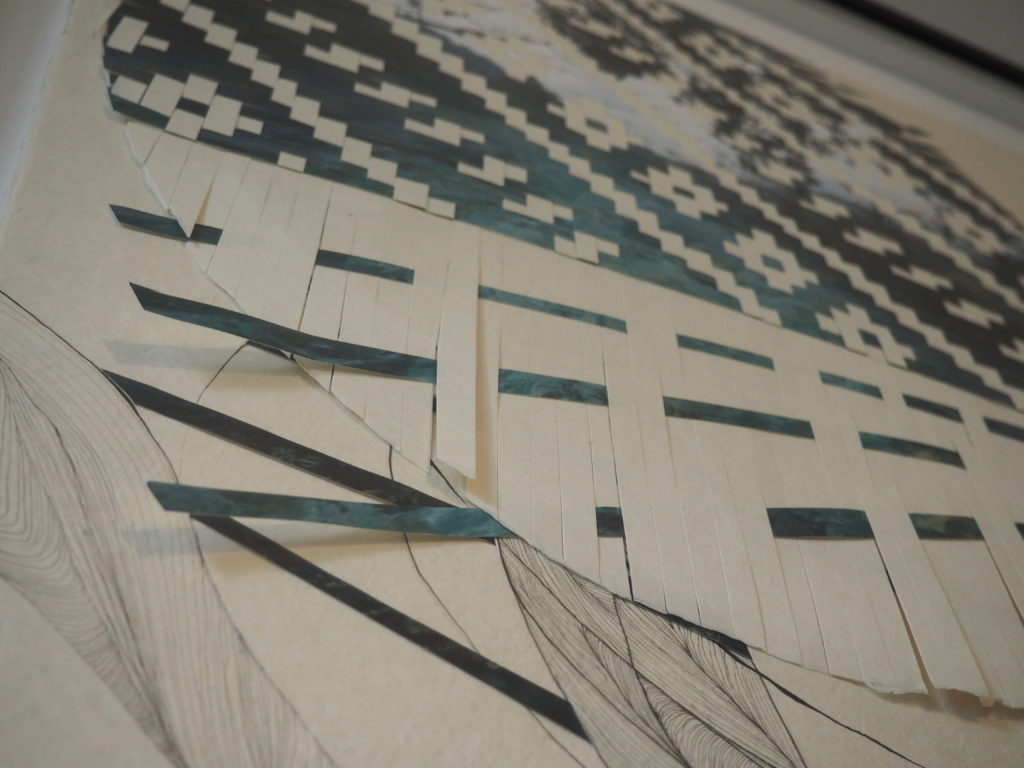 Sonny Assu is a multimedia artist who uses old navigational marine maps of the Pacific Northwest and superimposes digital illustrations that resemble traditional copper shield symbols over the areas labelled 'Indian reserves' on the maps. His work has influences of pop art and is the most explicitly political of the four artists exhibited in 'Substrata'. You can see a larger collection of his work curated by the Baldwin at Canada House in London until September.
The artist whose work I was most excited to see was the sculptural photographer Meryl McMaster. Her self-portraiture uses performance, placement and costume-making to explore issues around identity. Her father is of Canadian aboriginal descent and her mother is European, and these historically conflicting cultures provide a source for her dream-like tableaux.
The two pieces  in the exhibition 'Victoria' and 'Brumal Tattoo' show McMaster dressed in an elaborate 'suit' covered in pine cone seeds sewn on with red thread, black feathers springing from her head. In 'Brumal Tattoo' she plays a huge drum, covered in traditional plaited fabric and the photograph captures her movement whilst playing. The drum filled with red paint splashes everywhere, looking like blood on the snow-covered grasses. 'Victoria' shows her standing after the solo performance, drum sticks held in limp arms, blood-red paint splattered all over herself. Dennison told me that it was so cold when that photo was taken that the paint was frozen. 
Dennison explains that many of McMaster's pieces, although exploring nature connection and seeming to be deep in the wilds, are often photographed on the edge of urban places. She also often works alone, setting up the shot before stepping into the frame. Much of her work includes solo performance and references her Canadian First Nations and European heritage. We discussed the history of oppression of native people in North America, the power and prevalence of art in native cultures,  her experience living on a reservation in the US, how this work might help urbanised people reconnect with the land, and what being indigenous means in a shifting restless world.
The question that stuck with me on leaving was: 'at what point can you say or feel that you're really from somewhere?' Inspired by 'Substrata' I decided to investigate within my own creative practice and to make art, as one of the Dark Mountain manifesto's principles suggests, that is 'grounded in place and time'. 
'Substrata' is at The Baldwin Gallery until 18th June. Sonny Assu exhibition at Canada House runs from 22nd June until October 2019.