Bum yn lliaws rith

kyn bum disgyfrith

I was in a multitude of forms

before I was unfettered

– Taliesin, Kat Godeu/The Battle of the Trees.*

In the time of legend, during the reign of King Arthur, in a place called Llyn Tegid (Bala Lake), north Wales, there lived a powerful witch called Ceridwen. Ceridwen's son was horrifically ugly and not the boy she wanted him to be and so she planned to brew a potion that would imbue him with infinite wisdom and power. To this end she created a cauldron of awen or inspiration. Specific herbs had to be gathered and the concoction stirred continuously for a year and a day so Ceridwen chose an old blind man, led by a stable boy called Gwion Bach for this task.
On the very last day, when the potion was finally ready and Gwion Bach was dutifully stirring, three drops of the potion flew onto his thumb and scalded him so that he licked it quickly in pain. Immediately the boy was filled with wisdom, and the knowledge that Ceridwen would kill him for this treachery, so he ran – and as he ran he began to change form.
Thus begins the story of the birth of Wales' most famous poet Taliesin, whose life as a humble stable boy (Gwion Bach) changed dramatically through the power of rebirth, inspiration and transformation. Taliesin inhabits a revered place in the history of Cymru (Wales) as a legendary bard born of myth and magic who proclaimed his poetry for Welsh kings, and whose words have survived (if in broken form) throughout the centuries to the modern day.
Much is debated about the origins of Taliesin. The oral culture of Wales was the vessel used to pass information and historical details down through the generations, and much of it was preserved through being retold as legend. One of the ancient bardic traditions was that poets would assume the dramatic persona of a long-dead cynfardd (chief poet) through chanting lines such as I am Taliesin, and this practice continued throughout medieval times (making it difficult to ascertain when exactly the original Taliesin existed). By imitating and reciting the poems of their ancestors these next generations of bards would step into the persona of their mythical predecessors, channelling time and space to wear the traits of their bardic ancestor, believing they too could access universal wisdom and shapeshifting capabilities.
Centuries later Jung discovered the multi-layered psyche or soul, stating that much is unknowable to the conscious mind but that certain archetypes or universal characters exist that we can recognise. Taliesin himself is an archetype: the being of infinite wisdom with the power to assume the shape of any animal at will. The ability to embrace elements of this archetype is something we all retain – we have just forgotten how. Perhaps now is the time – during this period of upheaval and change, with the great behemoth of capitalism rampaging across the globe – to begin remembering the power of poetry, of the spoken word, of shapeshifting and metaphor that can radically transform our psyches, and as such, our lives.
As Gwion Bach ran he changed into a hare, and Ceridwen became a greyhound. The boy ran to the river and, flinging himself in the water, took on the form of a fish; so she chased him as an otter. Then he threw himself into the sky in the shape of a bird, and she pursued as a hawk.
This is one of the most dynamic shapeshifting sequences remembered on the British Isles, and it is rooted in north Wales (in Welsh – Y Gogledd Cymru, or Y Gogs to use the vernacular). To live here is to exist in a place once tightly woven with myth, magic and the language gifted by the land. Modern-day Cymru feels more threadbare in this respect but still, I was born in this region and believe that to swim in Llyn Tegid is to immerse in her hanes [story, history or personal story/history]; it is to slide into a place where doors to other worlds expand and contract and the waters of past, present and future flow together; a place of the mythical Mabinogion: a collection of medieval Welsh tales first transcribed in the 1300 and 1400s but whose exact origins are as unknowable as Taliesin himself.
North Wales is a complex and multifaceted region encompassing  the breathtaking vistas of Wales' highest mountain Yr Wyddfa (Snowdon) and Caia Park – Wales' largest housing estate, where certain areas are classed as some of the most deprived in Wales by our government. The internal bickering as to who is 'Welsh enough' rings out across mountains and man-made reservoirs where the ghosts of drowned chapels have long been silenced and the waters from lakes such as Llyn Celyn continue to be funnelled to Liverpool and Birmingham; where people still whisper cofiwch Dryweryn (remember Tryweryn) if only in dreams that echo in solidarity with indigenous people across the globe who are also dealing with the after effects of centuries of colonialism and oppression.
Around eight years ago I began the journey of learning Cymraeg. She is a minority language but the indigenous one, gifted to us by the land here and so I try to engage with her as much as possible – speaking fragments of poetry when walking outdoors in the hope the land will hear herself in me – I believe she recognises herself in our echo when we use Cymraeg. This is a long, slow and circular path that continually feeds back on itself, like a Celtic knot, so that time spent with new words, stories and myths is needed. I roll them around my mouth and mind for months and years; smooth them like river stones – pile them into cairns. In these liminal spaces between worlds and languages I am a community poet – working through strata of people, language and organisations; making connections, learning about the communities who live here; unearthing their hanes through poetry and the spoken word.
I am not deluded about the capabilities of poetry and art. Before people can begin to access their imaginations, before we can begin to connect with ourselves and each other through creativity, people need to have certain basic needs met. We cannot expect someone who is out of their mind with worry about eviction, or missing child support, or where their next meal is coming from, to halt all of those emotional processes and participate fully in a poetry project (but still they may get something out of just by being in the space with others). Poetry is part of the solution, but it cannot stand alone. The healing process for all of our communities is something that will take generations of support through meaningful employment; creative, individually tailored education; engagement with the self through artistic practice, and a deep connection with the land beneath our feet.
bum cledyf culurith,

or adaf pan writh.

Bum Deigyr yn awyr,

bum serwawl syr.

Bum geir yn llythyr,

bum llyfyr ym prifder.

Bum llugyrn lleufer,

blwydyn a hanher.

I was a slender mottled sword

made from the hand.

I was a droplet in the air,

I was the stellar radiance of the stars.

I was a word in writing,

I was a book in my prime.

I was the light of a lantern

for a year and a half.

Taliesin – excerpt from the poem Kat Godeu (or Cad Goddeu in modern Cymraeg)*
What Taliesin teaches us is that, as Walt Whitman wrote centuries later, I am large, I contain multitudes. And when Anne Waldman created her groundbreaking chant poem Fast Speaking Woman, inspired by Kat Godeu, she was extrapolating on all of the aspects of womanhood there could possibly be – she was meditating on every fragment of the female and translating that into language, into chant, and so I fold every element of this into the community workshops because our community contains every element of humanity within it – as do our psyches – and I believe this is where elements of the creative work needs to be focused.
Engaging with challenging groups is problematic at times because a huge amount of groundwork has to be carried out beforehand, but when the right people communicate and connect to dream a project, something beautiful and meaningful can come from it. If I'd said to the Welsh Women's Aid Wrexham group (a women's refuge) at the start of our recent eight-week poetry journey that we'd use myth and medieval Welsh poetry to inspire our words, and that this would instil participants with a real sense of identity and confidence, so much so that they would create and publish a poetry pamphlet and perform their words before a crowd of dignitaries, they would have laughed in my face.
But through the lines of Taliesin (as well as other poets) participants were able to begin to see themselves as constantly evolving individuals. Where somebody previously saw the future as an impassable wall, or prison, they might write I am a flower waiting to grow. The power of metaphor and the transformative nature of the psyche here is abundantly clear – to envisage the future as organic and evolving as opposed to static and concrete can be a liberating experience. Our group wrote beautiful, visionary lines ranging from the domestic: I am a good mum … I am the wiper of tears, to the utterly sublime: I am the ladder that I climbed … I am the creator.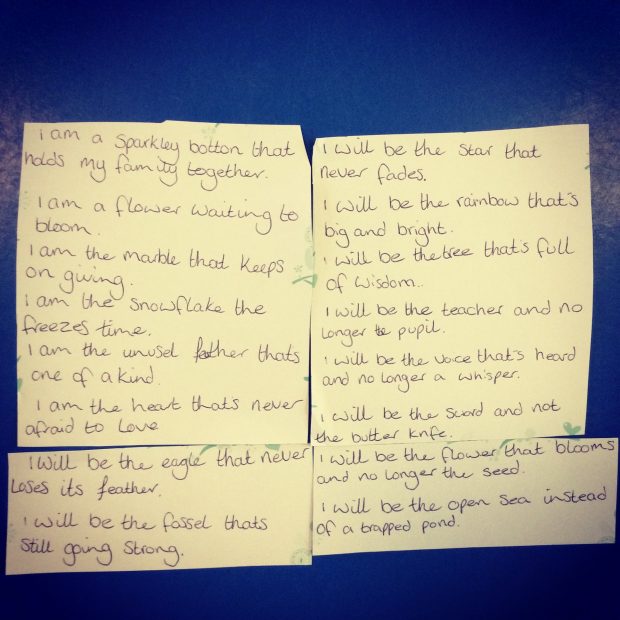 Sometimes creativity can prise open a person in ways we hadn't considered – past trauma can cause the imagination to become hard and compressed like slate, so to smash through this can cause irreparable damage. It is too easy to discount people whose attitudes match the hard grey-slate of their creative mind, but, like the slate in the ground, we are all a product of our environment and can learn how to dream a new future through creative evolution. By engaging on all of these levels we can encourage our communities to grow fertile topsoil, and allow each unique individual and place to germinate their own organic revolution, in their own time (which doesn't always marry well with funding tick-boxes).
We can use poetry to time-travel across the expanse of the white page: I was – acknowledgement of the past; I am – acceptance of the present; I will be – allows the writer to prophesise, to visualise their future as metaphor and movement, something to aspire towards. These myths and poems, and what comes from using them in this way, have shown me infinite possibilities, so that each time I work with a new group such as young parents who are care leavers, or young people from the Gypsy, Roma, Traveller community, or with elderly people in care homes with dementia, I am eternally surprised and heartened by their creativity and imagination.
The issue here is that once a person has had a transformative experience, they then need to return to a supportive family and community who are also undergoing their own reconnections and creative evolutions in order for the magic to continue working – imagine Karl Marx's alienation in reverse. If a person returns to an immovable, negative, inflexible environment/job/family, any positive changes can be lost in a chaotic day-to-day life.
Finally Gwion Bach flew over a heap of wheat grain and threw himself into the middle, but Ceridwen became a fat, black hen who gobbled up all of the grain. Eight months later she gave birth to a baby boy so beautiful she couldn't bring herself to kill him, so she folded him into a leather bag and floated it off downstream. Some time later the bag was found by two Welsh princes who, upon seeing the child inside with the 'radiant brow' proclaiming poetry, named him Taliesin (medieval Welsh for 'radiant brow').
Many people are beginning to generate real change – especially women within these communities who are reaching out and supporting each other to create and dream new ways of being into existence. We are taking on the role of Ceridwen and building our own cauldrons of awen to transform the communities we have birthed. We have stopped asking permission and started listening to our dreams (both when sleeping and awake) because this is how the land speaks to us. We know it is time to be brave, to think for ourselves, to stop waiting for others to take the lead; to speak our truths, even at the risk of humiliation:
A uo lleion nys mwy pwyllat;

[S]He who'd be in orders does not want to think seriously;

Taliesin – Prif gyuarch geluyd*
We have the capacity for perpetual rebirth and reincarnation but much of what we aspire towards these days is about using knowledge to change the world instead of embracing this most organic, innate and female potential. Knowledge (in the academic sense) is like gobbling empty calories – no matter how much we devour, it will never be enough because it is not the answer to bringing people together. The answers lie in the psyche; in connections, evolutions, rebirth, metaphor and the power of transformation brought about by creativity and connecting with the land.
We also have to face the truth that, as much as artists, and regional arts development managers and organisations work to access certain people in our communities, the reality is that more, not less, people are living in situations that are filled with abject poverty and/or abuse and while politicians harp on about our going in the right direction the truth, the real undercurrent of hardship, is that too many people are drowning.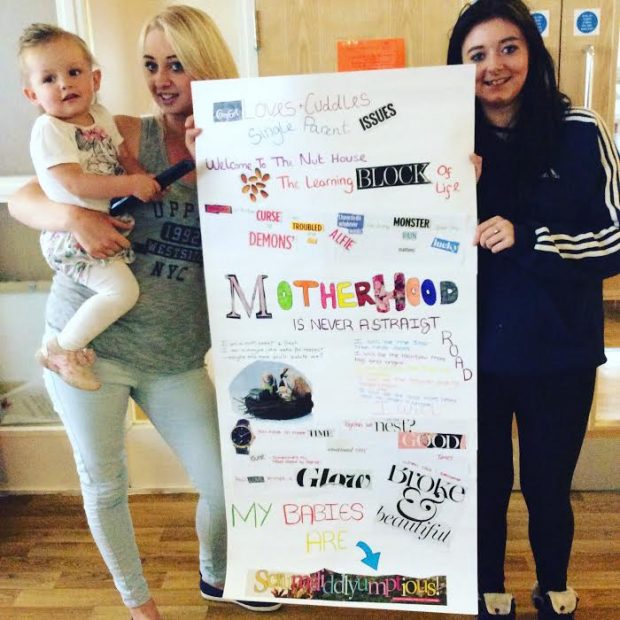 I see people existing as mountain strata because our lives and communities are so layered that unless people exist in our immediate strata we don't notice them. Which is why when I work within a community I burrow around to see who else is out there who is not part of my immediate story. I don't have all of the answers but I do know that inspiring creativity in individuals is part of the solution:
Prif gyuarch geluyd–pan ry leat?

The first artful bidding–where could it be read?*

Taliesin
In her skillful translation Marged Haycock suggests this line could be 'referring to God's first utterance' in the book of Genesis, but I wonder if perhaps Taliesin is signposting us away from books? The first artful bidding cannot be read because it cannot exist on a page. When you discover your unique artful bidding you will know, and you will know why it cannot be read – because it cannot be written – it cannot be known by anyone but you. By not being afraid to let go of what we were (and what we are), and embracing the transformative power of shapeshifting we can begin to evolve into organic, symbiotic communities that have a deep and abiding respect for each other and the land who birthed us.
*Translated from the original medieval Welsh by Marged Haycock in the Legendary Poems from the Book of Taliesin.
Also read:
The Mabinogion – translated by Sioned Davies.
Welsh Mythology and Understanding Welsh Myths Book 1 by Dr. Gwilym Morus.
Taliesin The Last Celtic Shaman – John Matthews.
—
Images: poem by a young mum from Barnardos Aspire project; young parents at Barnardos Aspire, Wrecsam by Sophie McKeand
—
Next week we conclude our series 'The Mythos We Live By' with a piece based on a Mehinaku (Amazonian) myth by anthropologist and writer, Carla Stang: 'The Glimpse'.